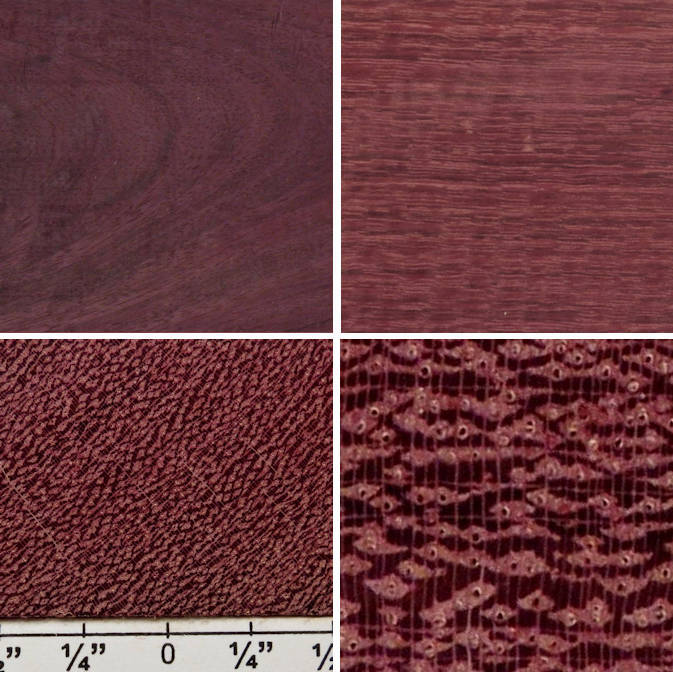 purpleheart / Peltogyne spp. (at least 20 species)


5" x 5" flat cut, 5" x 5" quartersawn, 1" wide end grain, and a 1/4" x 1/4" end grain closeup.

Diffuse porous with fairly large sparse pores having lozenge shaped aliform parenchyma and vague growth ring boundaries. Sometimes seemingly marginal parenchyma is present and the degree of confluence joining the pores varies a fair amount. Rays are obvious at 10X.

The best description I've seen of the brown/purple colors in purpleheart. This is from Eric, a moderator on The WoodTalk Forum:

Yeah purpleheart is weird stuff...I've seen it go both ways. We have some incredibly purple - like clownishly purple - boards come into the yard sometimes, and after a couple months some of them will begin to turn brown and others will stay purple. I've sent a totally brown piece through the planer and it's come out purple...and I've sent a very purple piece through and it's come out brown. I can't figure it out.

Like Eric, I can't figure it out either except to generically attribute it to the fact that there are quite a number of species that share the common name purpleheart, and there are varied growing conditions.