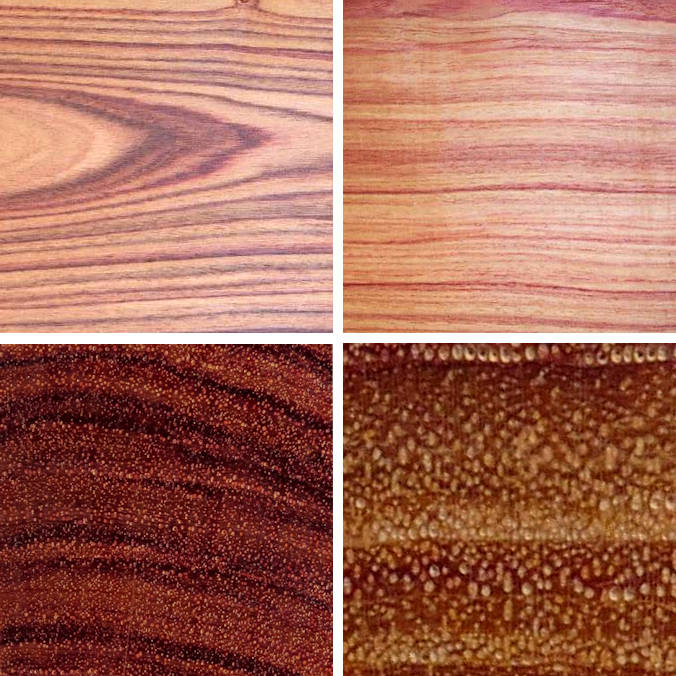 tulipwood / Dalbergia decipularis and Dalbergia frutescens
see fact sheet for a considerable discussion on the botanical name(s)


4" x 4" flat cut, 4" x 4" quartersawn, 1" x 1" end grain, and a 1/4" x 1/4" end grain closeup.

Semi ring porous with medium sized earlywood pores and small latewood pores, all with thin vasicentric parenchyma, some pore multiples. Growth ring boundaries range from indistinct to discernible. Very thin rays, sometimes hard to see even at 10X. Diffuse-in-aggregates parenchyma often present, often hard to see, rare occurrences of winged aliform parenchyma

One of the most consistently beautiful rosewoods




NOTE: There is some confusion about the botanical names (see the Fact Sheet) but bOth The Plant List and the GRIN database agree that Dalbergia decipularis and Dalbergia frutescens are accepted names of separate species with Dalbergia variabilis being a synonym for Dalbergia frutescens. The GRIN database, however, does not list tulipwood as one of the common names for Dalbergia frutescens but rather calls it jacaranda-rosa. In keeping with common usage, I consider them both to be tulipwood whether they are separate species or not.

In the "web pics" section of this page, I often did not make a note of whether a wood was called one species or the other since as far as I can tell, even if they are separate species, I can't tell them apart.