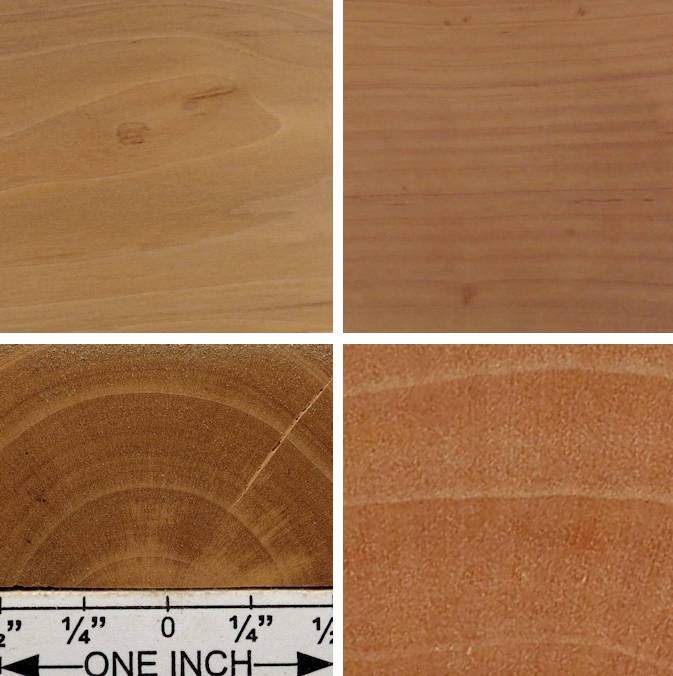 hawthorn / Crataegus spp.
of the family Rosaceae


3" x 3" flat cut, 3" x 3" quartersawn, 1" wide end grain, and a 1/4" x 1/4" end grain closeup.

There are over 70 species in the genus Crataegus of the family Rosaceae that have hawthorn as all or part of one or more of their common names.

Hawthorn is also called haw which comes from an Old English word for fence so "hawthorn" literally means "fence of thorns". The berries are reputed to have medicinal properties.

This hardwood is typically a small, shrubby tree and has severe drying defects so lumber is not generally available. As the name suggests, most varieties have thorns and the tree/bush is sometimes used for natural livestock fencing.

It is diffuse porous with "uncountable" pores, fairly distinct growth rings, and rays that are generally not discernible at 10X

The wood is hard and dense and can be given a high natural polish (it will feel glass-like to the touch). Generally it is not a particularly attractive wood although there are exceptions.

Nearly as I can tell, the amount of sapwood varies greatly among Crataegus species, with some having only a very small, dark heart wood surrounded throughout by a much lighter sapwood (a look that is similar to persimmon although the heartwood in hawthorn is not black) and others having quite a bit of heartwood plus thick sapwood.