open main page here





GONCALO ALVES

Astronium spp.




NOTES:
(1) Some of the flooring samples which were here previously turned out to be curupay, not goncalo alves, and have been moved to the curupay page.
(2) I have been informed by Gary Morrison of A&Q Hardwoods that although USA dealers may lump the very closely related wood "jobillo" in with goncalo alves, it is regarded in Guatamala as a considerably superior wood. I still don't know which species in the genus Astronium is considered to be jobillo and not to be goncalo alves; in fact, I'm not sure there IS such a beast; it may be just that the quality of the wood / density of the black streaks is what makes the distinction.


---

my samples: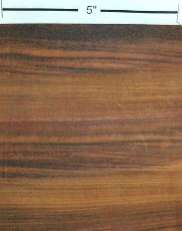 plank and end grain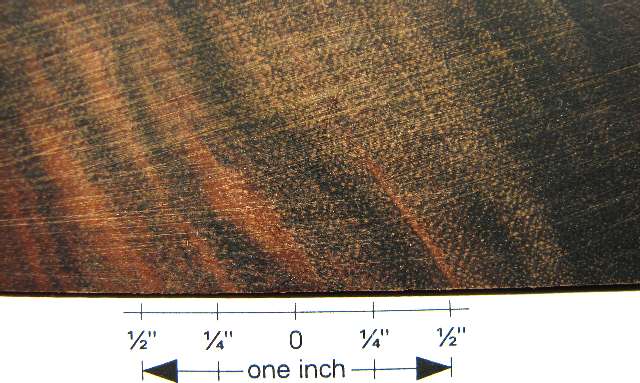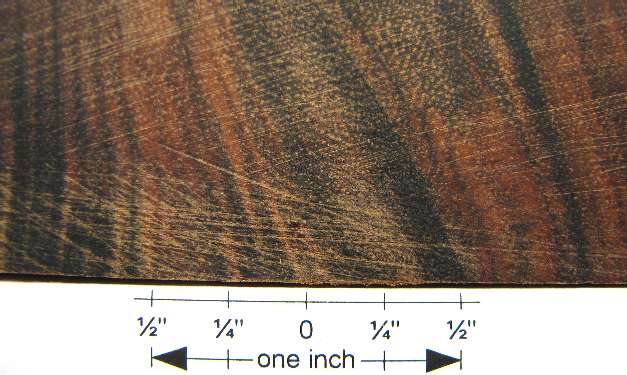 two end grain closeups of the piece directly above --- on the right-hand closeup in particular, sanding scratches are VERY evident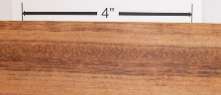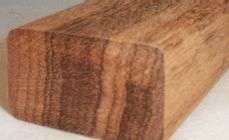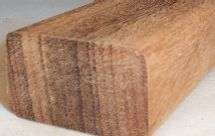 small stick and both ends. This piece is is totally devoid of any hint of red, which is interesting when you compare it to the web shot done by the company I bought it from (see below). Prior to sanding, the wood had a slight patina and a definitely oily feel but both disappeared when the wood was sanded.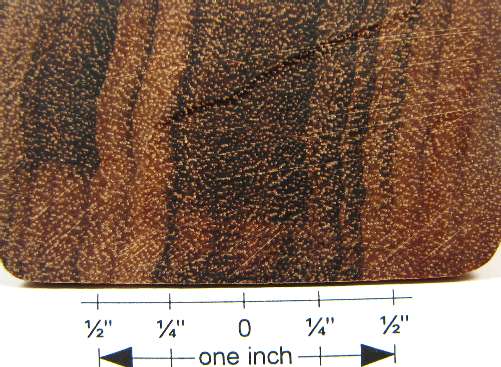 end grain closeup of the piece directly above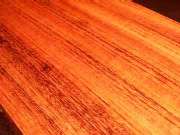 this is the web pic on eBay that was posted by the BogusColorVendor. My "small stick" sample above was cut from this plank, so you can see how grossly they have "corrected" the color to make the board look red when in reality it has no red at all. Some of the other shots below are from the same company, but at this point, I'm not totally sure exactly which are and which aren't.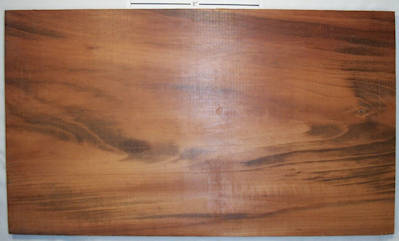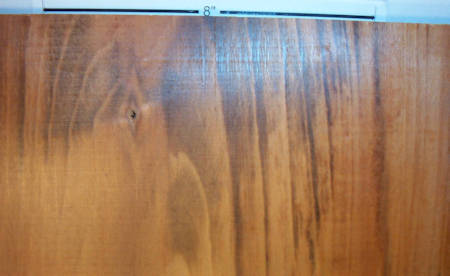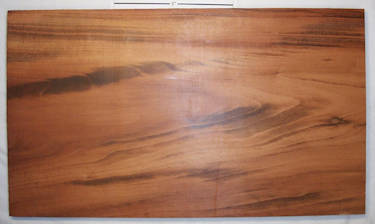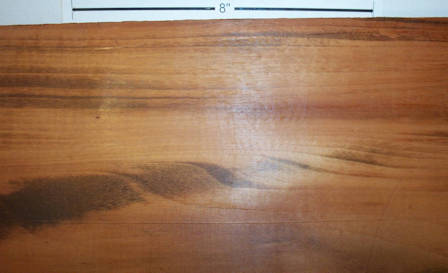 both sides, and a closeup of each, of a good-sized plank. This plank has a distinct oily feel and a reddish patina, both of which disappear when the wood is sanded. See directly below.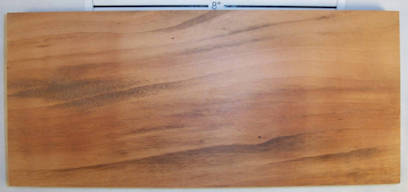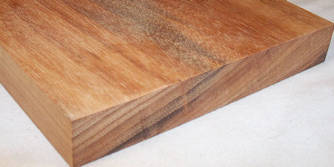 here is a section cut from the lower right corner of the picture directly above, and rough-sanded. I didn't even sand enough to fully remove the patina, but you get the idea. A litte more sanding and all trace of red tint will disappear, as in the upper right corner of this piece, where the sanding DID fully remove the patina, leaving a nice salmon color.





OK, now it is a year later and the wood has picked up just a little more reddish patina. That is, here is a piece from the original plank, that started (when I got it) with a patina and the piece shown here is of a section that I did not sand at all but have now sanded fully sanded on one side. If the reddish side were sanded, it would look exactly like the tan, sanded, side does now.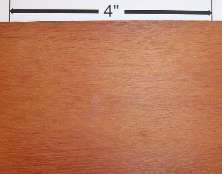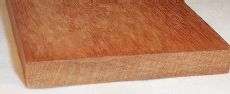 plank (and end grain) sold to me in a wood kit as "muiricatiara" which is a common name for one of the species (Astronium graveolens) that make up the generic trade name goncalo alves (see the fact sheet for the huge number of names used with this wood). I DO find it odd that this piece is a totally uniform color, since in my experience that doesn't happen in goncalo alves (although, rather obviously, it DOES happen in this variety). AHA --- Paul van Rijckevorsel has kindly alerted me to the fact that while muiricatiara is indeed a wood that is sold along with other species under the trade name goncalo alves, it is a generally an unfigured wood. Thanks, Paul.




end grain closeup of the piece directly above




END GRAIN UPDATE from directly above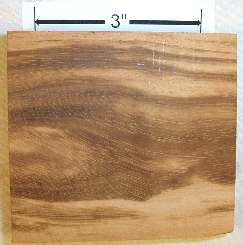 small plank section --- color is accurate; when I got the piece it had a hard finish or some sort which I sanded off. I regret not having taken a picture while the finish was still on, as it made a nice difference in the attractiveness of the wood.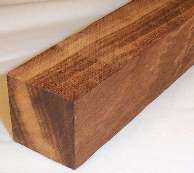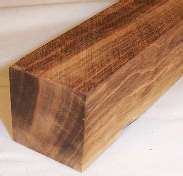 both ends of a rough-sanded turning stick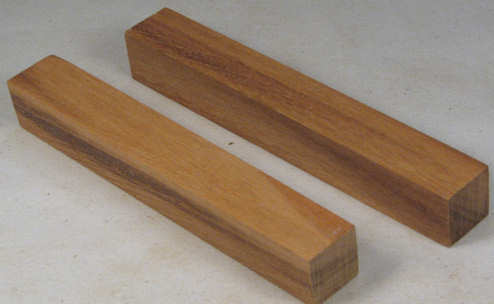 a couple of pen blanks and an end grain closeup of the pair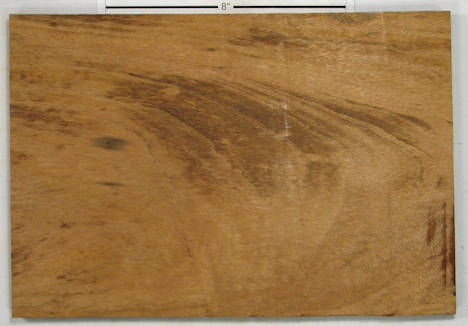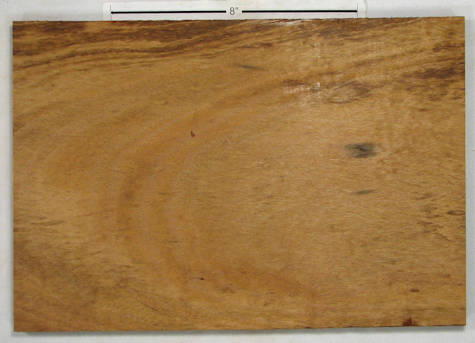 both sides of a plank --- this one has a very slight pomelle figure due to strongly interlocked grain; the color in this pic has just a shade too much gold in it --- should be a little more brown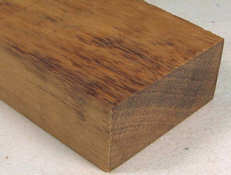 small plank, and its end grain, cut from the larger plank above and sanded down; the very slight patina was removed by the sanding and the color on these pics is quite accurate.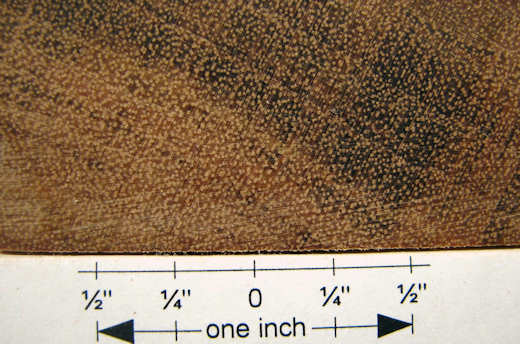 end grain closeup of the piece directly above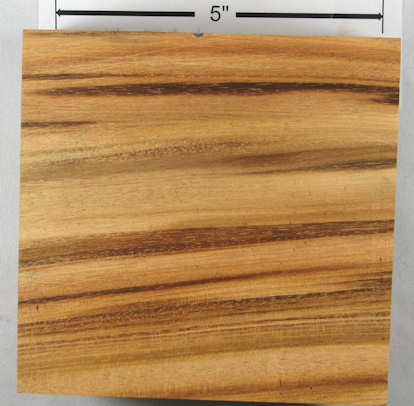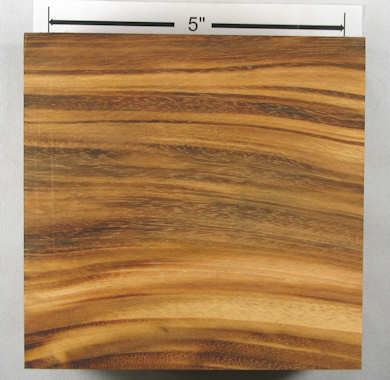 two faces of a small bowl blank sold to me as jobillo, which is a fairly commonly used alternate common name for goncalo alves in the USA, although I have been informed by Gary Morrison of A&Q Hardwoods that it is regarded in Guatamala as a considerably superior wood and sells for considerably more. This bowl blank sold for what I would expect to pay for goncalo alves, not any premium over that.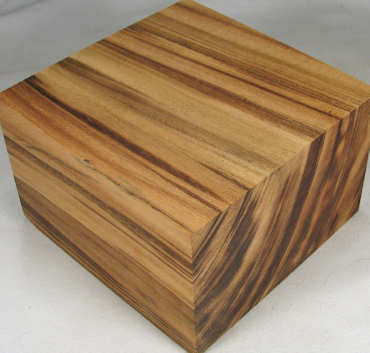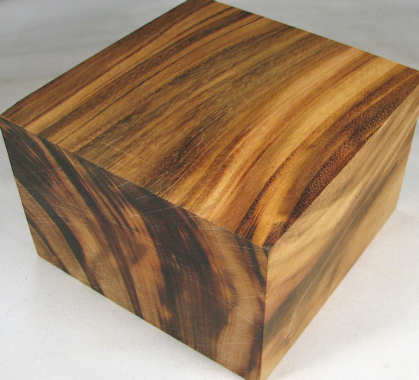 both ends of the bowl blank directly above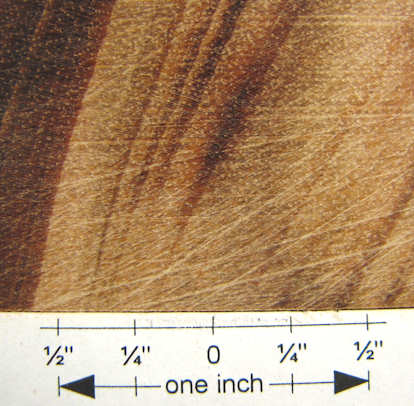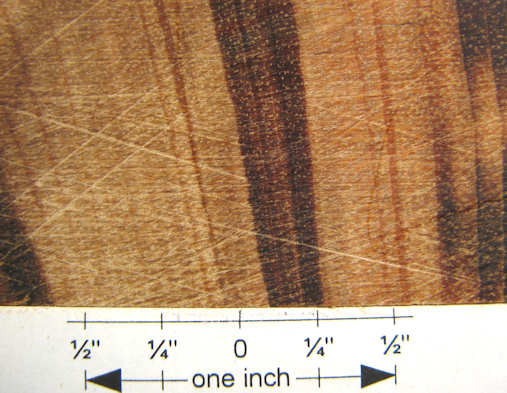 end grain closeups of both ends of the bowl blank directly above --- even more than usual, you can see how roughly I sand these end grains (as opposed to doing a razor cut, which is what one really SHOULD do to get a good end grain closeup)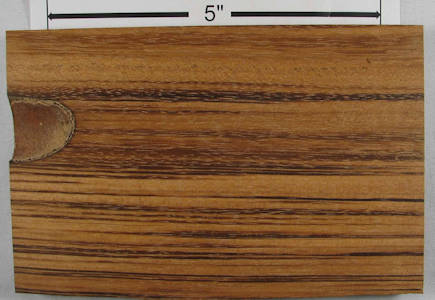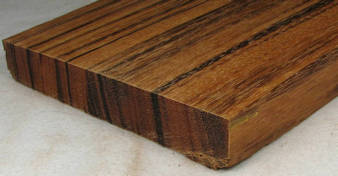 a small plank and end grain. This was sent to me for ID and eventually a correspondant identified it as being almost certainly jobillo and since I had recently obtained some jobillo, I checked it out and I absolutely agree w/ him. It weighs in at just over 60 lbs per cubic foot which is pretty heavy but easily within the range for goncalo alves.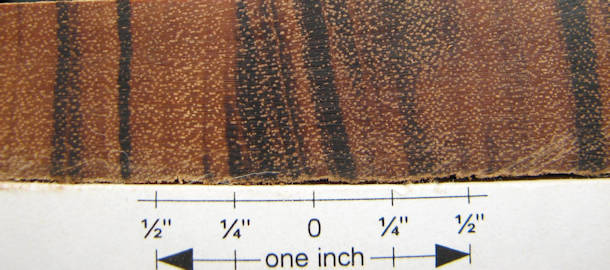 end grain closeup of the piece directly above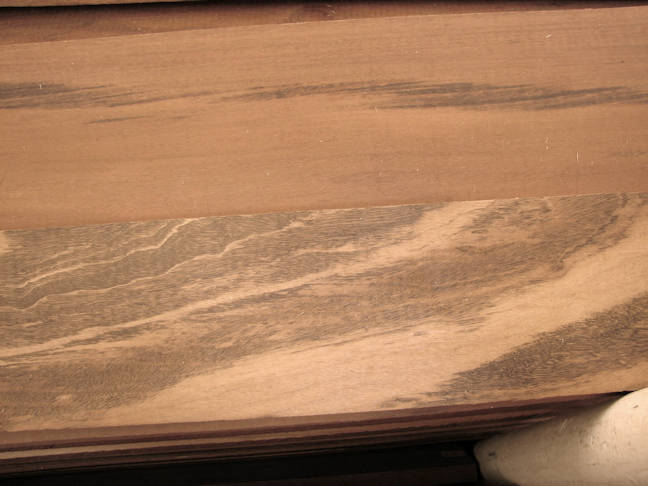 two planks shot at a lumber yard to show the color variation; the colors are quite accurate.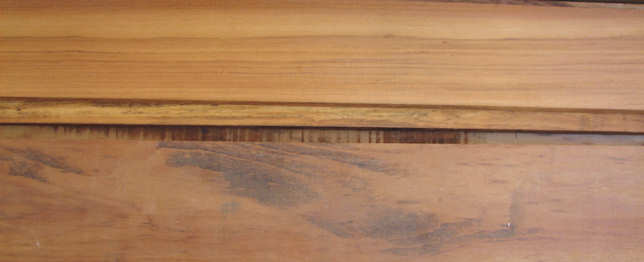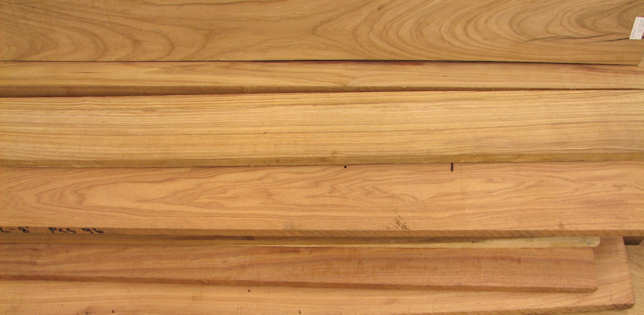 misc planks photographed at a lumber yard, showing both a decent color variety and the fact that this wood often does NOT have the dark streaking


---
web pics:

These show some of the huge variety of grain pattern and color that you find in this wood. I'm not sure all of the colors are accurate, but this wood does have a huge range of both color and grain.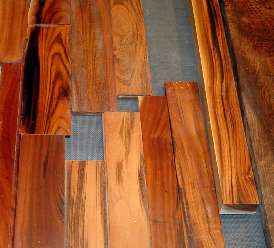 an excellent single-picture shot showing a mixture showing some of the range of color and grain pattern in this wood --- it looks much more interesting in the enlargement. This was provided to me by Brett from Montana, who has given me other nifty pictures and information that I'll get into this section soon. As you can see, the piece in the upper left could be mistaken for a rosewood, the two at the left of the middle bottom look a lot like sweet gum, and the brown one on the far right looks like shedua --- an excellent demonstration of how hard it can be to identify some of these exotic woods.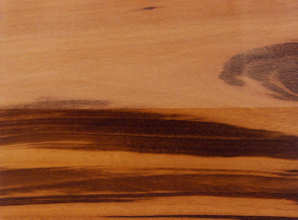 plank listed as tigerwood and with wet and dry sections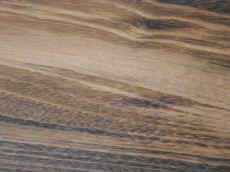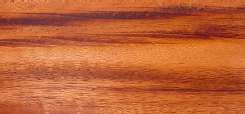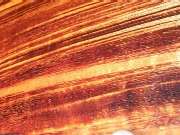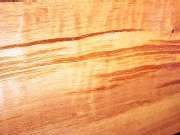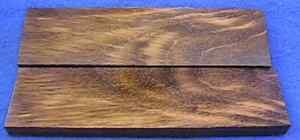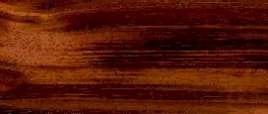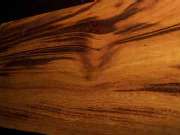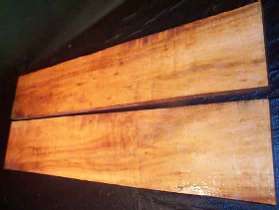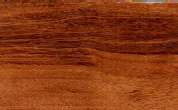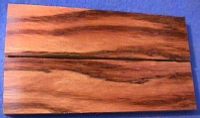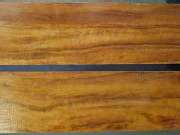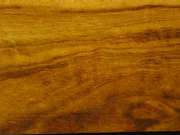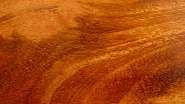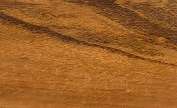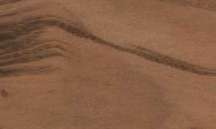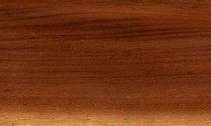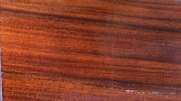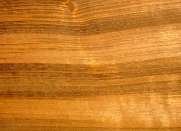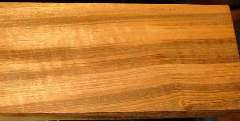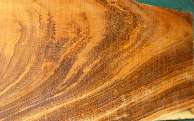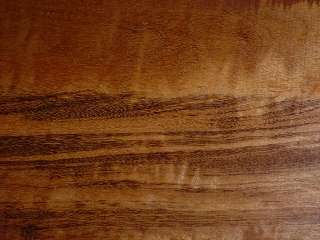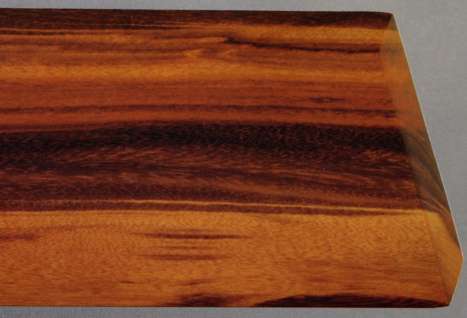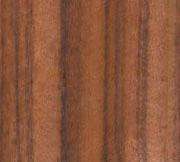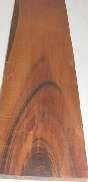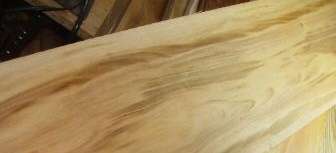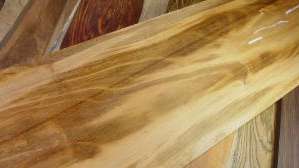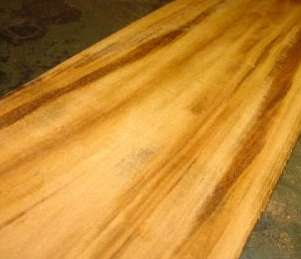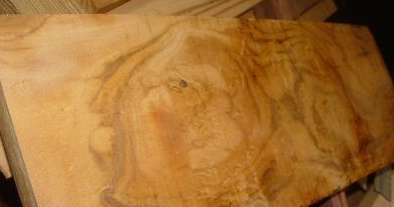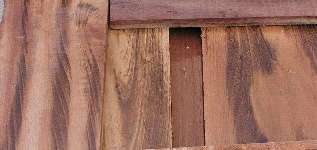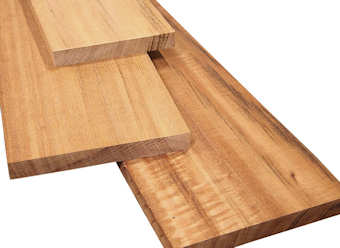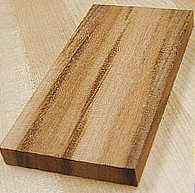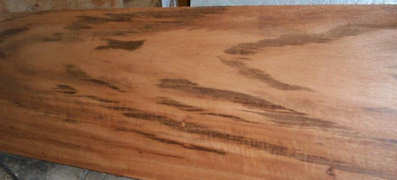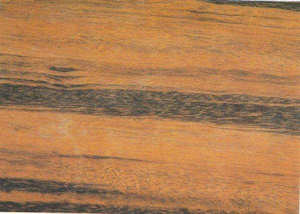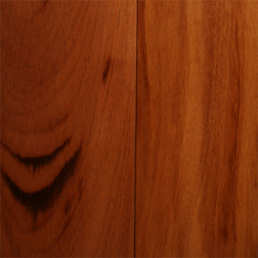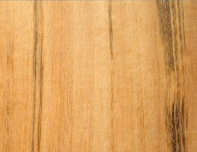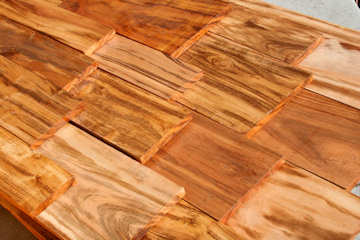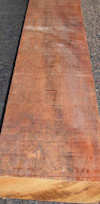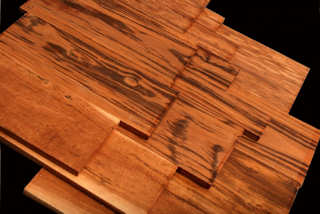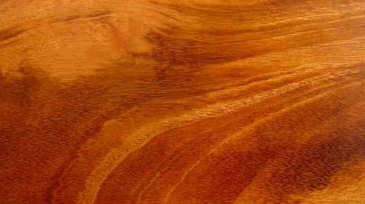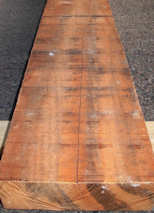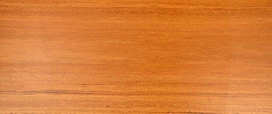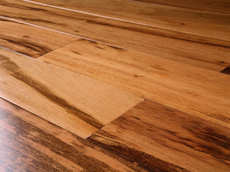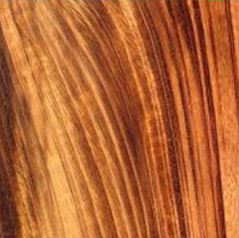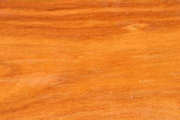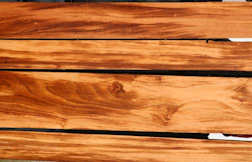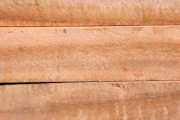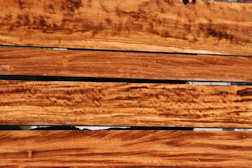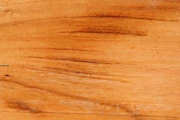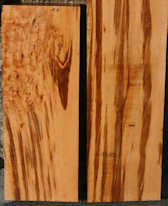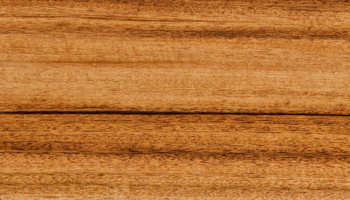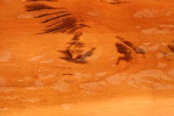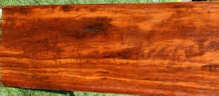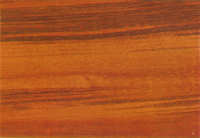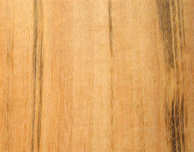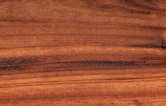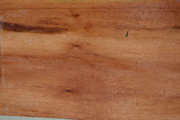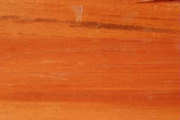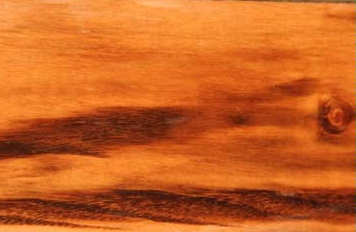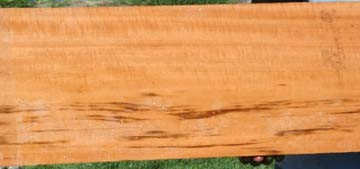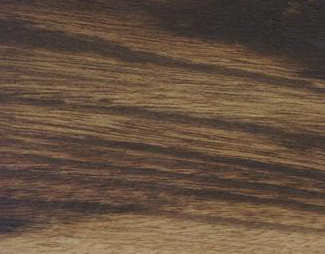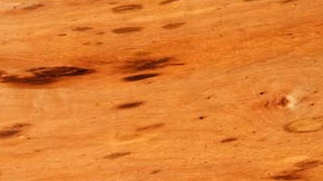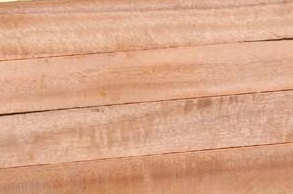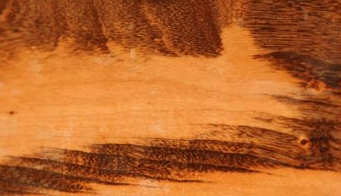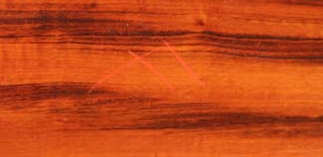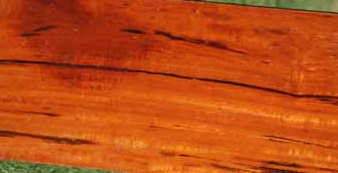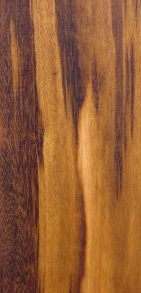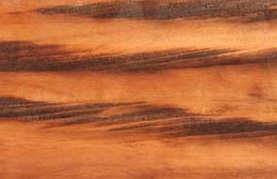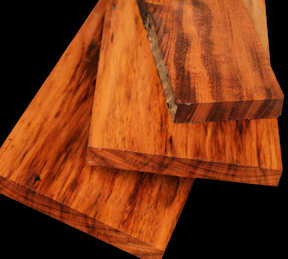 planks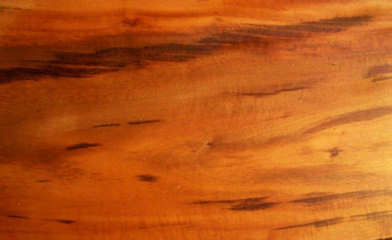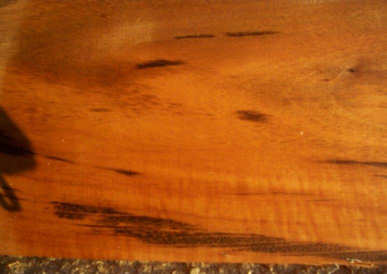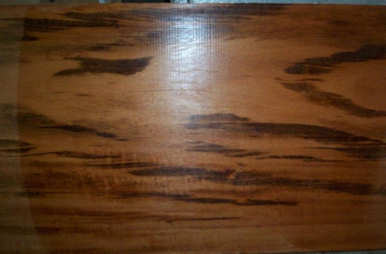 planks that have been moistened for the pics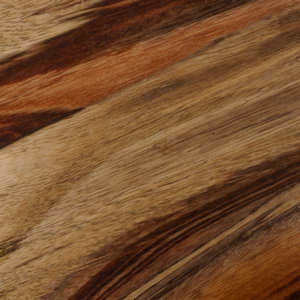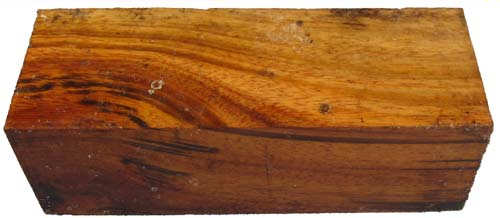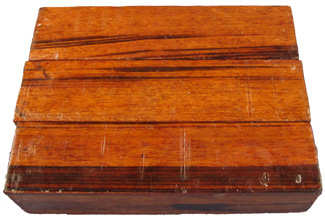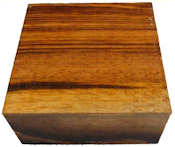 planks and turning stock listed as jobillo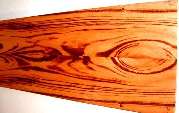 bookmatched planks with unlikely color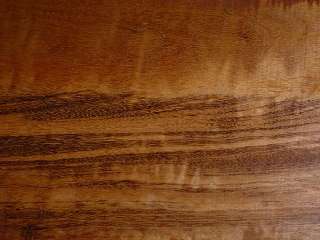 plank listed as "curly" by an overly optimistic vendor --- there IS a light curl, but very light







both sides of a plank and a couple of closeups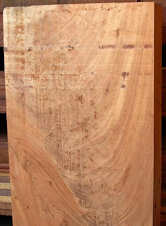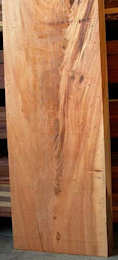 crotch slabs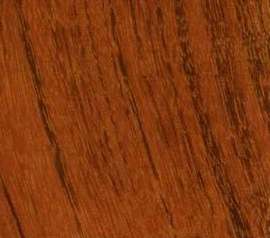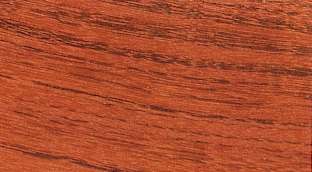 planks sold as muiricatiara --- although it is not immediately obvious, a close inspection will show you that these are the SAME pic, just that they have been cropped differently, have different colors, and one has been rotated. This is the kind of nonsense that I find on the internet fairly often. Someone steals another sites pic(s) and "corrects" them in some way.








slabs sold as muiricatiara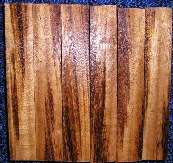 pen blanks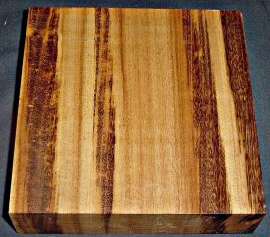 bowl blank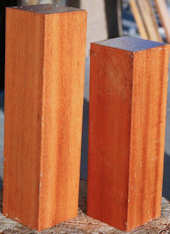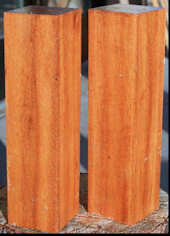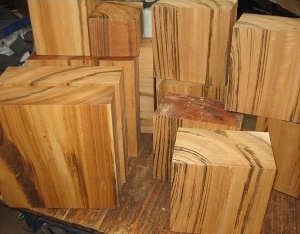 turning stock --- the first two sets are unusually bland for goncalo alves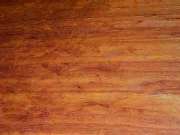 both sides of a plank and a closeup, sold as muiricatiara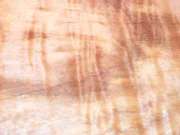 fiddleback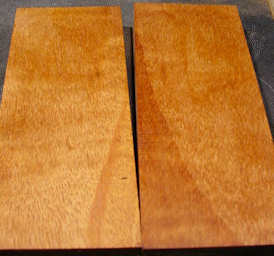 scales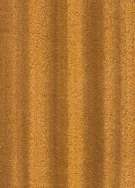 veneer specified as "tigerwood" --- the one on the left is most likely ribbon stripe sapele and the one on the right probably IS goncalo alves.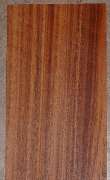 veneer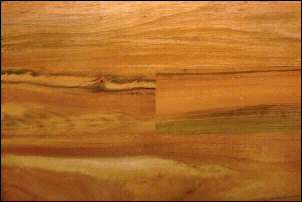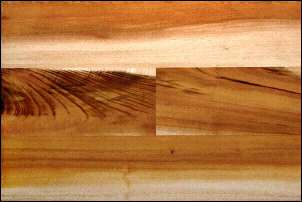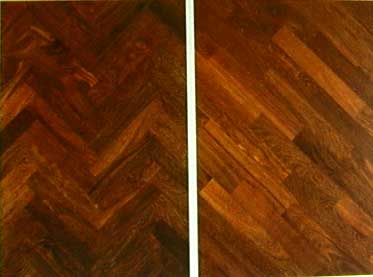 flooring sold under the alternate common name urundey para and with a botanical designation of Astronium fraxinifolium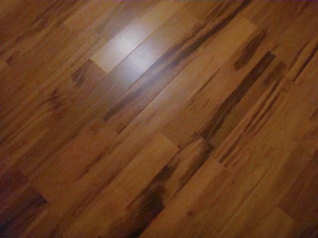 flooring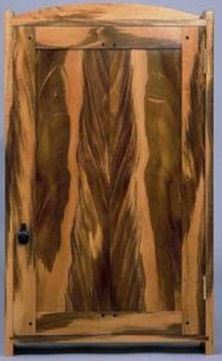 door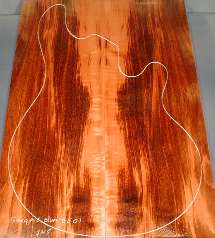 thin wood guitar-back blank; I'm not sure about the color but it could be correct. There may have been a finishing agent applied, or the wood may have been moistened for the picture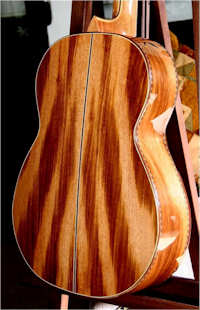 guitar back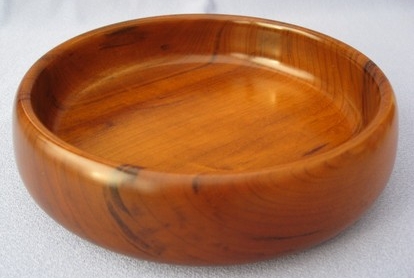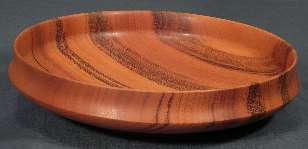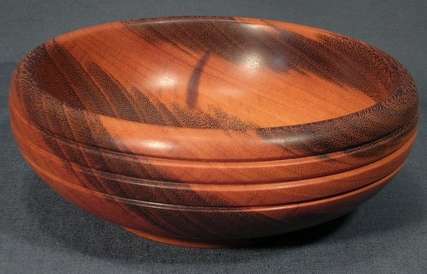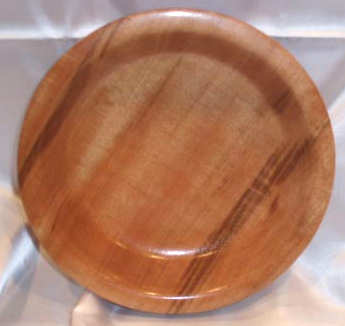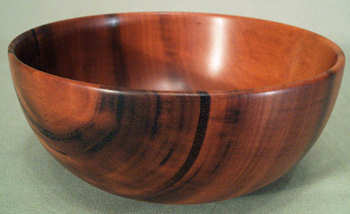 bowls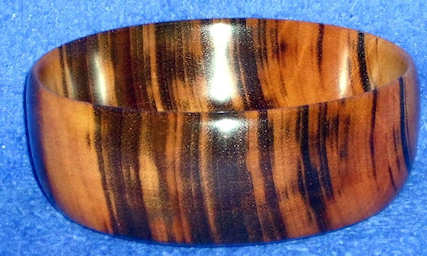 bowl listed as jobillo, another common name for goncalo alves --- this bowl looks exactly like what I think my own bowl blank of "jobillo" shown in the top section of this page would look like if I turned it into a bowl.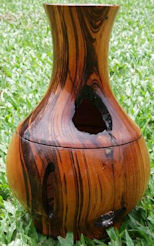 vase with several natural openings in the side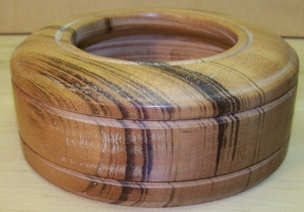 bowl listed as "jojobi", a name which I am unable to find in any of my reference materials, but I'm pretty confident that this is goncalo alves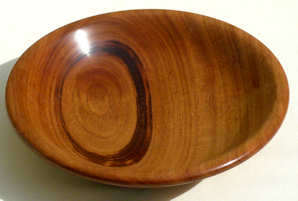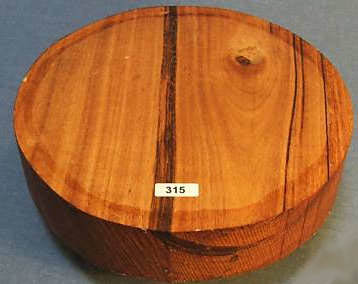 9" diameter bowl by Steve Earis (with big enlargements available) and the blank from which it was turned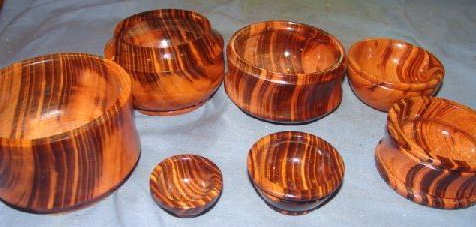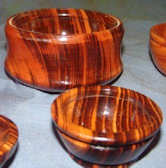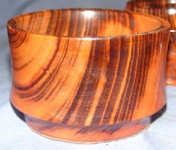 three views of some jobillo bowls that were turned and photographed by Gary Morrison whom I thank for the pics and for information he provided on jobillo vs goncalo alves. These are obviously finished with some hard shiny substance such as shellac or high-gloss polyurethane, that enriches the wood's color.


---

these are from the BogusColorVendor so the bright colors are highly suspect






both sides of a plank and a closeup






both sides of a plank and a closeup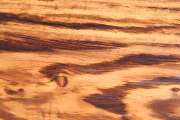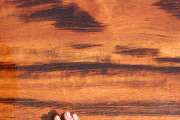 both sides of a plank and closeups from each side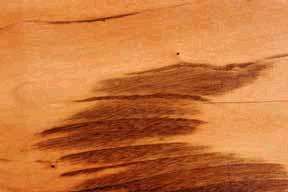 both sides of a plank and two closeups --- the colors on these actually seem likely, unlike the exaggeration that they normally do for their pics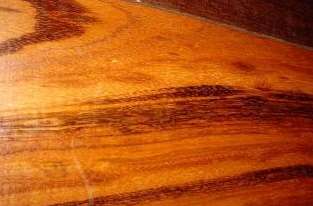 closeup with unlikely gold color --- this is very likely a tan plank just like the one directly above. Ah ... well, now that I have some more experience with this wood, I believe that this is an accurately pictured piece of golcalo alves that has what I now know to be a common surface veneer that is reddish and shiny and builds up over time but sands off to show the wood underneath as being MUCH plainer and with no red, much like the pic directly above this one.




plank