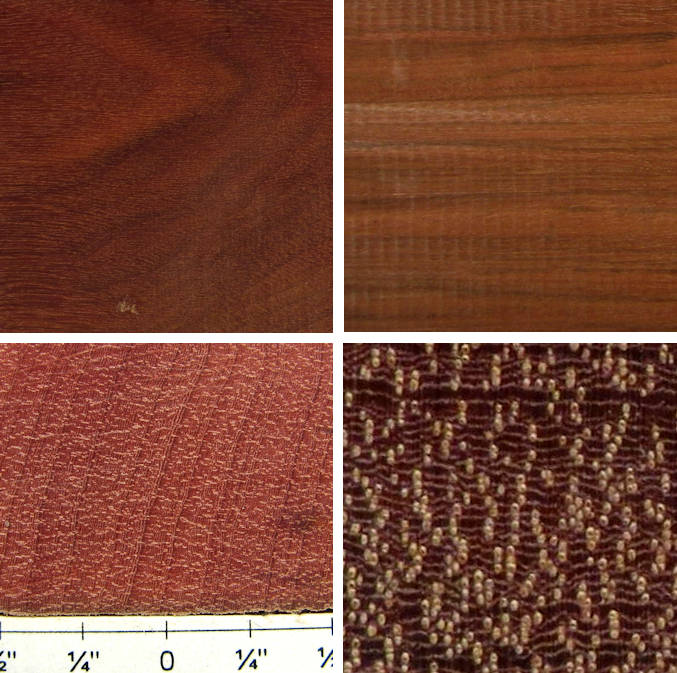 bulletwood (aka massaranduba) / Manilkara spp.
Manilkara bidentata, Manilkara elata, Manilkara huberi,
and Manilkara littoralis (syn Mimusops littoralis)
all of the family Sapotaceae


3" x 3" flat cut, 3" x 3" quartersawn, 1" wide end grain, and a 1/4" x 1/4" end grain closeup.

See also sapodilla, which is a closely related wood.

This is a very hard, heavy, strong wood.

All of my samples on this page were sold to me as massaranduba which is another common name for this wood.

This wood acquires a patina that makes it appear to be a darker, but richer, red than it is when fresh. The wood, as you will see from the more detailed pics is a deep rich pink when first exposed.

The vendor I bought these planks from pointed out that this wood is very similar to sapodilla, except, he says, this wood keeps the red color much better than sapodilla, which turns dull brown with exposure. As you will see from my exposure series on this wood, that does NOT seem to be the case. That is, this wood, despite his statement to the contrary, ALSO turns brown on exposure, although this wood's brown is a slightly rich, very slightly reddish brown.