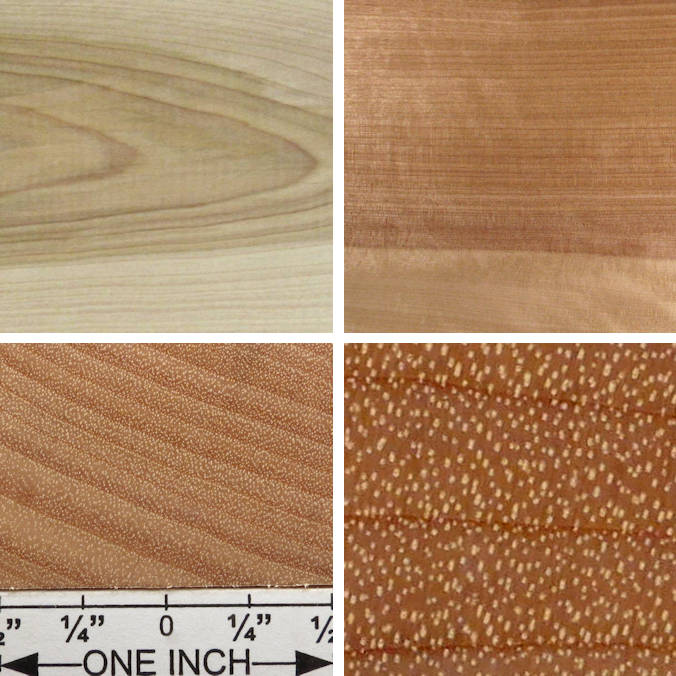 birch / Betula spp. of the family Betulaceae


5" x 5" flat cut, 5" x 5" quartersawn, 1" wide end grain, and a 1/4" x 1/4" end grain closeup.

Diffuse porous with moderate density, medium sized pores in short radial strands (multiples?), marginal parenchyma present but often quite faint. Rays are fairly dense but very thin, often not visible even at 10X.

In birch, the term "flame" is often used to describe what in other woods would be called "curly" with the curls being relatively widely spaced, somewhat like a sausage quilt and quite far from fiddleback (which is a very tight curl), and can be very attractive.

The terms karilian and mazur efer to exactly the same type of birch which is one in which there is a pock-mark figure as seen in the pics further down this page. Sometimes it appears just a splotchy ovals. I've just put the pics in here with whichever of those terms was used where I found them or when they were sold to me. This type of birch is also sometimes called "burl" birch, but that is not correct ... this is not a type of burl and does not come from a canker on the side of a tree but rather is part of the bole itself (and usually only parts of the bole). The figure is sometimes slightly similar to bird's eye figure in maple.