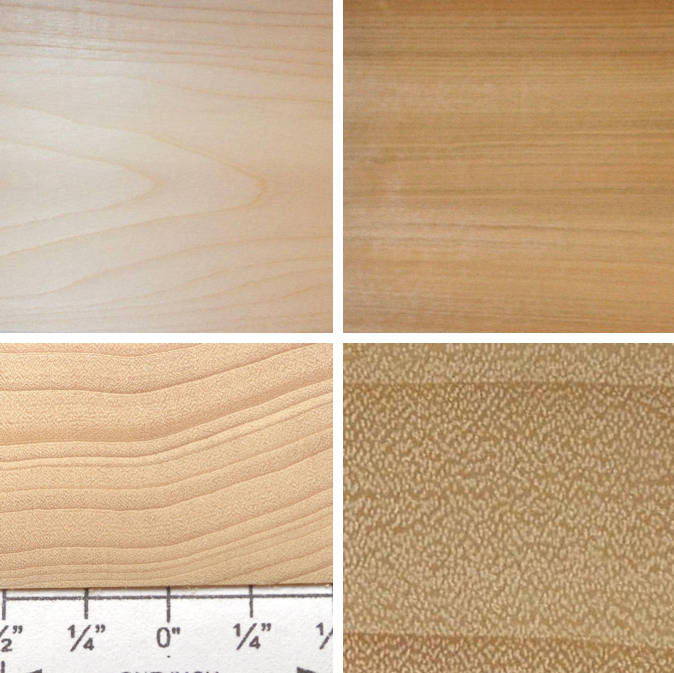 aspen / Populus spp.


5" x 5" flat cut, 5" x 5" quartersawn, 1" wide end grain, and a 1/4" x 1/4" end grain closeup.

Diffuse porous with moderately dense small pores uniformly distributed but often in short radial groups of 2 or 3 pores, clear growth ring boundaries generally with some darkening of the tissue at the end of the latewood, rays not visible at 10X, marginal (or seemingly marginal) parenchyma

Populus spp. of the family Fabaceae (syn. Leguminosae) the legume, pea, or bean family. Although there are over 30 species worldwide, from 8 genera, that have the word aspen as all or part of one or more of their common names, It it is my intent that the woods on this page be from the genus Populus. There is some possibility for confusion between the sets of Populus that are normally called cottonwood (or poplar) which has its own page on this site and those that are called aspen, PARTICULARLY since ALL of the species that use the name aspen ALSO use poplar or cottonwood or both (but there are numerous Populus species that use poplar or cottonwood or but but which do NOT use the name aspen). Such is the joy of common wood names. Further discussion can be found on the page for cottonwood.